Site Navigation: Home page . Questors Lighting
Introduction : Lighting Design at the Questors Theatre
The Questors Theatre, Europe's largest community theatre is based in Mattock Lane, Ealing, London, W5.
It has two auditoria:
The Judi Dench Playhouse
The acting area is highly configurable and a thrust stage is used for most productions, although it is possible to configure the Playhouse as a conventional proscenium auditorium or for 'theatre in the round'. Depending on the configuration audiences of 250 to 350 can be accommodated.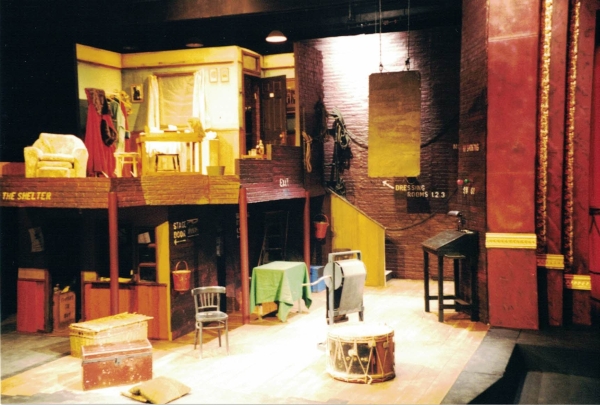 The Playhouse set for 'The Dresser', May 1998
The Stanislavsky Room
A more intimate space, usually known as 'the Stan Room' or the 'Studio'. It is essentially an empty box roughly the shape of a squash court. Portable seating rostra allow an almost infinite flexibility and audiences of 80 to 100 can be accommodated.
The Studio set for 'Deathtrap', October 1998
The theatre has an active and very experienced Lighting Department. I first became involved with lighting in 1995 and worked on a number of shows, initially as a rigger, before progressing to focussing and lighting operator. I was invited to join the Lighting Committee in 1997, since when I have designed the lighting for the shows in the list opposite.

In November 2015 Andrew Dixon and I were elected Joint Heads of Lighting at Questors.
p.s. One of the joys of live theatre is that things can, and do, go wrong from time to time.
Here is an example of Coarse Stage Management.
---
Return to Home Page
---
This document is © Chris Newall 2016 and is not for sale or general publication.

---
Author : Chris Newall
Last update : 23rd January 2016