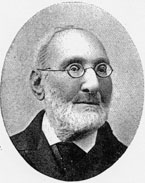 Myer Davis 1830-1912
---
Myer Davis, known in later life as Myer David Davis, the son of David Davis (1801-1870) and Jane Myers (1797-1874), was born in Adgate on 19th November 1830. As a boy Myer attended the Talmud Torah section of the Jews' Free School in Bell Lane. His interest in Hebrew must have been stimulated by his grandfather, Jacob Myers, who was the principal assistant at a school in Mansell Street and also dabbled in authorship. The 1841 Census records Myer, then aged 10 years, staying with his 70 year old grandfather at 1 Moses Buildings [Moses Almshouses], Devonshire Street, Mile End Old Town.1

The J.F.S. Education Committee Minutes 2 record that Myer was presented as one of six candidates for the office of Hebrew master on 6th October 1847 and at the age of 18 he was appointed as master of the Talmud Torah class, which had been merged into the general institution, he also taught Hebrew in other classes of the school. While still at the Free School, Myer had begun to take an interest in Anglo-Jewish history, in the modern study of which he may be said to have been the pioneer Myer Davis married Frances Wolfson, head mistress of the Westminster Jews' School and a niece of Moses Ansell, Secretary of the Great Synagogue, on 20th July 1853.3

Myer and Frances had at least three children:
David Lionel Davis, born about 1854
Hannah Davis, born about 1857, married Paul Mansseviz on 13 Sep 1880 at the Central Synagogue, London 4
Rose Davis, born about 1863
In 1871 when he was first Hebrew master of the Jew's Free School, Myer was appointed examiner for Hebrew and religious subjects of pupils of Borough Jewish School.4 After many years' service at the Free School, he became Head Master of the Shaare Tikvah (Gates of Hope) Schools. Myer, Frances and family lived in Church Street, Spitalfields from 1871 5 or earlier until at least 1881.6

In 1900 Myer Davis' friends, pupils and admirers made a presentation to him to mark his 70th birthday, the gift included a house, number 106 Brondesbury Villas. He died at his home on Friday 12th January 1912 and is buried in Willesden Cemetery. Many articles have been written about him; his life and work are most concisely summarised by the following:
Mr. Myer Davis - Eightieth Birthday
To-morrow, Mr. Myer Davis, the veteran Anglo-Jewish historian, celebrates his eightieth birthday.
Mr. Davis was born on November 19th, 183O, and was educated at the Jews' Free School, of which he afterwards became a teacher. He was the first editor of the Jewish World. Mr. Davis is best known for his pioneer work into early Anglo-Jewish historical records. In 1888, the Jewish Historical Society published his "Shetaroth," and he has since written in our own columns and those of antiquarian journals on various matters relating to the history of the Jews in England. The communal appreciation of Mr. Davis's labours was expressed in 1900 when a testimonial was presented to him. Mr. Davis retains his interest in Jewish literary matters, and delights in the company of many young students whom he entertains with his rich store of reminiscences, and instructs out of his fund of accumulated wisdom.
'The Jewish Chronicle' - November 18, 1910

Mr. Myer Davis
The death occurred yesterday at his residence, at Brondesbury Villas, of Mr. Myer Davis, who was known as "the father of Anglo-Jewish History."
Mr. Davis, who was born in 1830, was originally a teacher at the Jews' Free School, but his reputation as a Hebrew scholar caused him to be sought by many private pupils. He became friendly with Dean Stanley, who gave him facilities for inspecting the Hebrew manuscripts and records in the Chapter House at Westminster. He obtained similar facilities at York and Norwich. With extraordinary diligence he examined many thousands of documents and compiled a highly interesting work dealing with the "Starrs," legal deeds affecting the Jews before their expulsion from England in 1290. This work was published in connexion with the Anglo-Jewish Historical Exhibiton held at the Albert Hall in 1887. Since that time Mr. Davis published in the Press the results of further researches. His work paved the way for a number of other investigators, notably Mr. J.M. Rigg, and gave great impetus to the activities of the Jewish Historical Society. Mr. Davis possessed a wonderful memory and had an inexhaustible fund of anecdotes relating to the days and personalities of his boyhood. He was one of the first editors of the Jewish World.
On his 70th birthday Mr. Davis received a testimonial from his friends, pupils and admirers, the gift included the house at Brondesbury Villas in which he spent his closing years with his wife, who survives him. Mr. And Mrs. Davis celebrated their golden wedding some few years ago.
'The Times' - Saturday 13th January 1912
Sources:
1841 Census for Mile End Old Town (HO 107/713/5, folio 14)
J.F.S. Education Committee Minutes (LMA/4046/A/03 001)
Marriage certificate
Entries in 'The Jewish Victorian' (Doreen Berger, 1999)
1871 Census for Christ Church, Spitalfields (RG 10/507 folio 5R)
1881 Spitalfields (RG 11/435 folio 6V)
Return to the main family history page
---
This document is © Chris Newall 2003 and is freely available to fellow researchers.
It is not for sale or general publication.
---
Author : Chris Newall
Page created on : 1st July 2000
Last modified : 26th July 2003