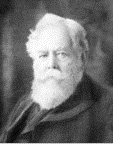 Ebenezer Hall 1820-1911
---
Gilbert Hall was a lead miner and smallholder, his family can be traced back a further five generations to John Hall (-1688), whose grandsons Jabus and John Hall (1704-1782), the latter a Barmote Court Grand Jurymen, paid tithes on the Goodluck Mine situated just to the north of the village of Middleton-by-Wirksworth, Derbyshire. In March 1783 Gilbert's grandfather, Ebenezer Hall (1735-1803), was one of the jurors at the Barmaster's Inquest after his nephew Gamaliel Hall fell to his death in one of the shafts. The mine was worked in the traditional manner using vertical shafts from the hilltop until 1830 when it was sold to Messrs. John Alsop & Co. of Lea Bridge and an adit was driven from the slope overlooking the Via Gellia. The adit was completed by 5th December 1831 when the cheek of the Goodluck vein was inscribed with the date and the initials of the previous shareholders in the mine; these included Gamaliel's Hall's son Caleb, John Holmes, Edward and Nathaniel Godbehere and Joseph Moor.

Gilbert Hall married Elizabeth Slack on 18th April 1816; they had 12 children (ten sons and two daughters) and in the natural course of events the sons would have become lead miners like their father. However, the second son, named Ebenezer after his great-grandfather, was evidently a very bright boy and attended Cromford School, which had been founded by Richard Arkwright in 1832. Here he caught the eye of the schoolmaster William Shaw, who recommended him to his friend John Roberts, a childless Sheffield silversmith who wished to adopt a promising young man to succeed to his silverplating business.

In 1836 Ebenezer moved to Sheffield to be apprenticed to the firm of Wilkinson & Roberts; he lived with John Roberts and his wife Sarah at their house in Shrewsbury Road in the Park district of Sheffield. Ebenezer learned the business quickly and within a few years became a manager, travelling on the firm's behalf to London, Edinburgh and elsewhere. This involved arduous journeys by stagecoach but in 1847 his diligence was rewarded when John Roberts' original partner Henry Wilkinson retired and Ebenezer was offered a partnership in the firm, which now became known as Roberts & Hall. At this stage Roberts contribution to the partnership (£2,750) greatly exceeded the £100 stake put up by Ebenezer Hall and Roberts retained overall financial control. Ebenezer Hall allowed his profits to be retained by the firm until such time as his share matched that of his partner. This gave him an extra incentive to succeed and the firm went from strength to strength, exhibiting at the Great Exhibition of 1851 where they were awarded a Certificate of Merit.

In 1852 Roberts & Hall amalgamated with Martin & Naylor of Fargate, Sheffield and henceforth became known as Martin, Hall & Co. Around this time several of Ebenezer's brothers joined the firm, most becoming departmental managers. On 31st October 1857 a patent for 'Improvements in Steam Hammers' was granted in the names of Richard Martin, Ebenezer Hall and Joshua Hall and in 1959 the indenture of apprenticeship of William Monks described Joshua as a Co-partner in the firm. Joshua died on 12th June 1861 and is buried in Sheffield General Cemetery. In due course some of Ebebenzer's nephews, notably his namesake Ebenezer Hall junior, the first son of his elder brother John Hall, also joined the management team.

Some time between 1854 and 1856 John Roberts retired from active involvement in the firm, which was now located at Shrewsbury Works, 53 Broad Street, Sheffield Park. In 1851 Roberts had purchased Abbeydale Villa, Dore, Derbyshire where Ebenezer Hall continued to live with him as a boarder. At this time Abbeydale Villa was set in rural surroundings on the turnpike road between Beauchief and Owler Bar. Between then and 1857 the house was extended in the Victorian-Gothic style but in that year it was severely damaged by a fire which started in the attic and completely destroyed the room occupied by Ebenezer. The 1861 census describes John Roberts, aged 63, as a 'gentleman' and Ebenezer Hall, aged 40, as a 'silver-plater'. The other members of the household were John's wife Sarah, aged 55, and her cousin Sarah Wilkinson, aged 26.

In 1866 Martin, Hall & Co. was incorporated as a Limited Company under the chairmanship of Bernard Wake, with Richard Martin and Ebenezer Hall as joint managing-directors, the capital of the new company was to be £150,000. This massive increase in capital since Ebenezer had first entered partnership, less than 20 years before, suggests that the business had indeed prospered, and bonuses and dividends averaged 15% around this time.

Ebenezer continued to live as a boarder at Abbeydale Villa, now renamed Abbeydale Hall, until after the death of Sarah Roberts on 9th November 1874. On 17th February 1876 he married Sarah Wilkinson at St Paul, Covent Garden and by 1881 he had purchased Abbeydale Hall from John Roberts, although the latter continued to live there with Ebenezer and Sarah Hall until his death on 11th April 1888.

During the early 1870s the Midland Railway Company had constructed the Chesterfield and Sheffield line through Dore, although the few trains passing at that time would have caused little disturbance to the local residents. However, in 1872 the Dore & Totley station was opened just quarter of a mile from Abbeydale Hall. Although this would have been convenient for Ebenezer Hall it also stimulated was an influx of new people into the area. In February 1884 the Dore & Chinley Railway Company sought powers to construct a new line passing about 100 yards from Abbeydale Hall. This was unsuccessfully opposed by Ebenezer Hall, who eventually decided that his best option was to become a shareholder in the company.

Ebenezer was appointed a Derbyshire magistrate in April 1884, but does not appear to have been very active in the role after that year. After Martin, Hall & Co. had become a Limited Company he had greatly diversified his business interests and sat on the boards of several companies, including those of Sanderson Brothers & Newbould Ltd. (chairman), the Sheffield and Rotherham Joint Stock Banking Co. Ltd. (chairman) and the Sheffield United Gas-Light Company. He was also very much involved in charitable work and was particularly generous to local churches. He continued to travel daily to Sheffield until at least 1902 but relinquished the Chairmanship of Martin, Hall & Co. Ltd. in 1903 and finally resigned from the Board of Directors in 1904. His nephew Ebenezer Hall junior had been groomed to take over on his uncle's retirement but was, by that time, in his sixties and was apparently considered too unstable for the responsibility so Alfred Ernest Maxfield succeeded as Chairman.

He retained his directorship of Sanderson Brothers & Newbould Ltd. and the chairmanship of the Sheffield and Rotherham Bank until 1907. His interest in Church affairs continued and he still acted as a churchwarden at St. John, Abbeydale. He remained in good health until within a few weeks of his death, which occurred on 28th June 1911. 'The Times' of Friday 30th June 1911 carried the following obituary notice:

"Mr EBENEZER HALL"
"The death took place at Sheffield on Wednesday of Mr Ebenezer Hall of Abbeydale Park, Sheffield. Mr. Hall, who was in his 92nd year was apprenticed as a youth to Mr. John Roberts, silversmith, and ultimately became head of the firm, which, under the name of Martin, Hall & Co. has long been prominent in the silver and electroplate trade. He retired from business many years ago. Mr. Hall was a liberal benefactor to religious and charitable organisations."

He was buried in Sheffield General Cemetery in the same vault as John and Sarah Roberts. His widow Sarah continued to live at Abbeydale Hall until her own death in 1919.

His will, dated 14th September 1905, occupied 39 pages and proved to be a genealogical goldmine. The gross value of his estate was about £194,000. Abbeydale Hall was left in trust to his executors, who were to allow Sarah to live there during her widowhood, and he left around £20,000 to local churches and charities. A special trust fund was created for Ebenezer Hall junior who had been destined to succeed him as Chairman of Martin, Hall & Co. Ltd. Most of the residue of his estate was divided between his surviving brothers and sisters, the families of his deceased siblings, his wife's nephews and nieces and a few close friends and colleagues.

Ebenezer's parents and two of his brothers are buried in the churchyard of Holy Trinity Church, Middleton-by-Wirksworth. His bequest to this church funded the building of an extension and a new vestry which was completed in 1925 and is commemorated by a stone laid by his nephew Gilbert Hall. The east window of the church is dedicated to the memory of Ebenezer Hall and his photograph hangs in the nave.

The firm of Martin, Hall & Co. Ltd. survived Ebenezer for more than 20 years, finally going into liquidation during the great depression in 1933. During the firm's heyday they had established a reputation for quality and the beauty of the design and finish of their goods, they had showrooms in London and Glasgow and factories in Sheffield, London and Birmingham employing nearly 500 workers. In addition to the awards from the Great Exhibition of 1851 they won diplomas at London in 1862 and the highest award of merit at the Sydney Exhibition of 1879, which Ebenezer and his wife attended as part of a belated honeymoon trip.

On the face of it this is a typical example of 'from rags to riches and back in three generations'. But Ebenezer's father, Gilbert Hall, was a smallholder and elector and various branches of the family continued to prosper after the demise of Martin, Hall & Co. Ltd. However, it was Ebenezer's entrepreneurial flair which brought them from the obscurity of the lead-mining village of Middleton-by-Wirksworth, where the family had lived for the previous 200 years, to the booming prosperity of 19th century Sheffield.

Appendices

1: The family of Gilbert and Elizabeth Hall:
| | | | | | |
| --- | --- | --- | --- | --- | --- |
| | Born | Baptised | Baptised at | Died | Buried at |
| Gilbert Hall | 9 Dec 1796 | 25 Dec 1796 | Wirksworth | 23 May 1870 | Middleton |
| Elizabeth Hall (nee Slack) | 30 Oct 1797 | 1 Jun 1798 | Wirksworth | 17 Mar 1863 | Middleton |
| Ann Hall | 27 Sep 1816 | 20 Oct 1816 | Wirksworth | ? | ? |
| John Hall | 3 Oct 1818 | 22 Nov 1818 | Wirksworth | 11 Dec 1868 | Sheffield |
| Ebenezer Hall | 18 Nov 1820 | 11 May 1823 | Wirksworth | 28 Jun 1911 | Sheffield |
| Joshua Hall | 22 Apr 1823 | 11 May 1823 | Wirksworth | 12 Jun 1861 | Sheffield |
| Job Hall | 11 Mar 1825 | 1 Apr 1825 | Wirksworth | ? | ? |
| Joseph Hall | 15 Jul 1827 | 5 Aug 1827 | Wirksworth | ? | ? |
| Daniel Hall | 3 Dec 1829 | 17 Jan 1830 | Wirksworth | 4 Mar 1848 | Middleton |
| Stephen Hall | 28 Nov 1832 | 16 Dec 1832 | Wirksworth | 31 May 1862 | Sheffield |
| Sarah Hall | 6 Nov 1834 | 30 Nov 1834 | Wirksworth | ? | ? |
| Benjamin Hall | 19 Aug 1836 | 25 Sep 1836 | Wirksworth | ? | ? |
| Samuel Hall | 8 Jan 1839 | 20 Nov 1842 | Middleton | ? | ? |
| David Hall | 23 Oct 1842 | 20 Nov 1842 | Middleton | 16 Jul 1861 | Middleton |
? denotes an unlocated event
2: The Migration from Middleton
In 1851 Ebenezer had been joined in Sheffield by his brothers John, Joshua and Job, all were living in the Sheffield Park area and working as silversmiths, presumably for Roberts and Hall. By 1861 Joseph, Stephen, Benjamin, Samuel and David had joined them. So had Ebenezer's brother-in-law Holehouse Storer, husband of his sister Ann, and members of several other families from Middleton, they were all living in the Park district and were employed in the silver-plating trade. Most were from lead mining families and it is probable that the booming silver-plating industry in Sheffield provided opportunities that were missing in the village of Middleton during the rapid decline in the Derbyshire lead mining industry after 1860.
Sources:
'Ebenezer Hall' by Joan Lacy-Hatton, held in the Locaal History Section of Sheffield Central Library
'Goodluck Mine, Via Gellia' by Ron Amner and Peter J. Naylor, Bull. Peak Dist. Mines Hist. Soc., Vol. 5, Part 4, pp. 217-240, October 1973
'The Directory of Directors', 1903
Will of Ebenezer Hall, proved at Derby on 10th August 1911
Register of St Mary's Wirksworth
Sheffield General Cemetery Burial Register
Return to the main family history page
---
This document is © Chris Newall 2018 and is freely available to fellow researchers.
It is not for sale or general publication.
---
Author : Chris Newall
Page created on : 30th October 1999
Last modified : 17th August 2018